Eva Schloss and Paula Fouce were just on BBC News talking about Auschwitz, Anne Frank and "No Asylum"
HOLOCAUST & GENOCIDE EDUCATION PROJECT

To teach Anne's universal message of tolerance, No Asylum is raising funds to translate and caption the film in 11 languages. The Teacher's Guide for classrooms has been developed with the Anne Frank Center of Mutual Respect & the Kean University Holocaust Center. To donate, please mail your tax deductible contributions to:

YIVO INSTITUTE FOR JEWISH RESEARCH
15 West 16th St.
NY, NY 10011
Marked for " Holocaust & Genocide Education Project"

Thank you for your kind support!

No Asylum will be screened by Ciné-ONU, presented by the United Nations Information Service in Geneva, to commemorate the occasion of the International Day dedicated to the memory of victims of the Holocaust.Jan. 28, 2018, 11:00 AM at Cinema Cinerama Empire in Geneva, Switzerland.
Discussion follows with Eva Schloss, Otto Franks' stepdaughter and Paula Fouce, director. Admission free. For infomation: cineONU@unog.ch
This screening in Geneva is made possible with the support of the permanent missions of Israel and the United States to the United Nations Office in Geneva.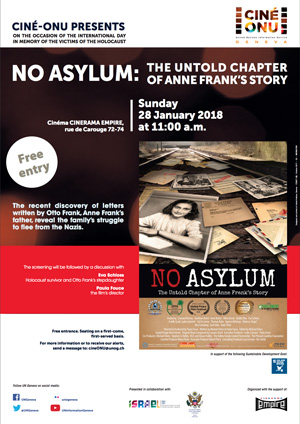 Paula Fouce, Director of No Asylum will be on Fox 5 KVVU - TV Las Vegas, Monday April 24, MORE Show
9:00 - 10:00 AM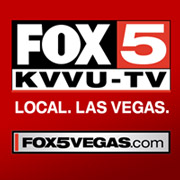 No Asylum has been accepted into the Docs Without Borders Film Festival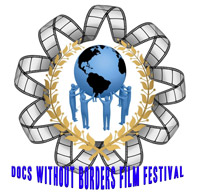 RECENT REVIEWS

Documentary Watch – No Asylum: The Untold Chapter of Anne Frank's Story

'No Asylum' Review: Anne Frank's Father Explored In Heartbreaking Documentary

Anne Frank: 'No Asylum' before the attic

'No Asylum: The Untold Chapter of Anne Frank's Story' revealed via her father's letters


INTERVIEWS

Click here to watch an interview with Paula Fouce
and Jonathan Brent on FOX Las Vegas

May 3rd, 2016 6PM
NBC Las Vegas
Gerard Ramalho will interview Paula Fouce
and Holocaust Survivor Meta Doran at 6 PM tonight.
This interview will be repeated this weekend as well.


We were featured in the Quad City Times:

Anne Frank's Story Lives On in No Asylum

We were featured in the Jewish Press:
Did You See "No Asylum"? by Rhona Lewis
There was no room for Jewish refugee children.
Buddy Elias is featured in No Asylum, we will miss him so much.